Board of Directors
The Board of Directors is responsible for policy making and strategic decisions concerning Läkarmissionen's operations.
The members of the Board of Directors are elected by the Advisory Board at the Annual Meeting for a period of three years. 
After the 2018 Annual Meeting, the Board consists of twelve members, presented below. 
The Board has two operational committees, one national and one international. If you have suggestions to the Nomination Committee, please contact Hans Hallström at hans.hallstrom@lakarmissionen.se or 08-620 02 00.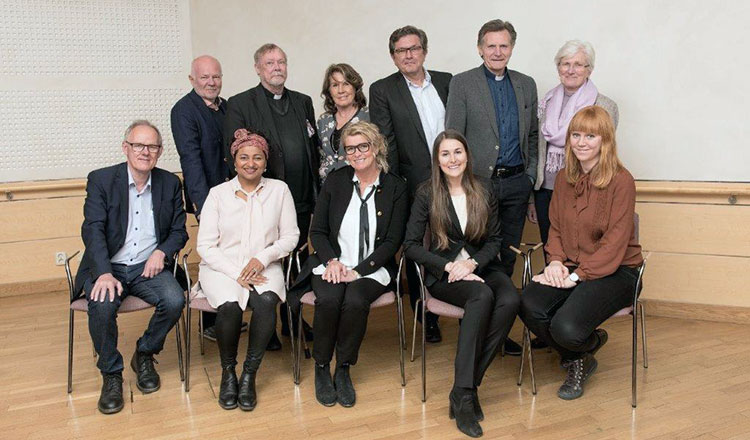 From top left:

CHRISTIAN HOLMGREN
Board Member since 2014. Engineer, Stockholm. Special interest in
Southeast Asia, education and support for children, and children with
special needs. Consultant in corporate and project management. Previous
assignments/appointments: Humanitarian and missionary work
in Bangladesh, Head of Administration at PMU, Pentecostal Director,
Vice-President of Dagengruppen.

ERIK KENNET PÅLSSON
Board Member since 2014. Deacon in the Catholic Church, Diocese of
Stockholm, Tyresö. Considers literacy aid to be especially important.
Church planter and author in ecumenism. Member of the Board of the
Swedish Soldiers Homes Association.

MARGARETA ARVIDSSON
Board Member since 2008. Teacher, Vrigstad. Committed to social
aid, literacy, training & education and leadership issues. Previous
assignments/appointments: 36 years as a missionary and 23 years as
Swedish Vice Consul in Bolivia.
BO GULDSTRAND
President. Member of the Board since 1995. Entrepreneur, Stockholm.
Engaged in Läkarmissionen's literacy programmes and projects in
Eastern Europe. President of Human Bridge. Previous assignments/
appointments: corporate executive, various directorships.

STAFFAN HELLGREN
Vice-President. Member of the Board since 2009. Vicar/Area Dean,
Church of Sweden, Danderyd. Special interest in microcredits as a development
tool. Previous assignments/appointments: Director of Ersta
Diakoni, Director of Stockholms Stadsmission, Port Chaplain in Egypt.

AGNETA LILLQVIST BENNSTAM
Member of the Board since 2005. Doctor, Ludvika. Primarily interested
in healthcare and development issues in Africa. Works in insurance
medicine. Member of the Uniting Church in Sweden's reference group
for health and medical care. Worked for 17 years as a missionary in
DR Congo, and as a company doctor.

GUNNAR SWAHN
Appointed in 2016 from Läkarmissionen's Advisory Board. Extensive
experience in social aid work for PMU and the Filadelfia Church in
Stockholm. Member of the International Steering Group and international
working groups of the Pentecostal Alliance of Independent
Churches.

HANNA MÖLLÅS
Appointed to the Board in 2017. Former member of the Läkarmissionen
Advisory board. Midwife, sexologist and therapist from Huskvarna.
Committed to sexual and reproductive health issues. Runs a counselling
service with therapy and lectures on sexuality and relationships.

MARIA WISS
Board Member since 2014. Deacon in the Church of Sweden, Jönköping.
Passionate about training & education and self-sufficiency
issues. 25 years as a CEO and corporate executive in the hotel and
restaurant industry. Experience of and commitment to development
aid in India.

AMANDA WINBERG
Board Member since 2015. Commercial lawyer, Stockholm. Committed
to training & education and microcredits as aid vehicles. Previously
employed as a district court clerk in Gothenburg. Experience of project
work in Uganda and China, and studied the developing countries.

KRISTIN ELMQUIST
Board member since 2016. Upper secondary school teacher in social
studies, Skärholmen. Especially committed to educational issues, as
well as to poverty reduction and development in sub-Saharan Africa.
Active Board member at Klara Church, Swedish Evangelical Mission,
Stockholm. Master of Political Science with a focus on development
issues. Experience in aid projects.

NILS ARNE KASTBERG (NOT IN PHOTO)
Board Member since 2007. Consultant in humanitarian aid, Örebro
and Miami. Committed to children's issues and children's rights.
Previous assignments/appointments: Over 40 years of management
experience at the UN, for example as Head of UNICEF in Sudan.