Our Core and Foundation
Läkarmissionen started in 1958 supporting a mission hospital in South Africa. Today, we are an international aid organisation, active in more around 35 countries on four continents, with an annual budget of more than SEK 100 million.
At the core: changing lives
The goal of our organisation and our development aid efforts is to create opportunities for vulnerable individuals that enhance their life quality and empower them to create a better future. Therefore, the foundation for our development programmes is to provide support that underpins the innate strength of individuals to escape their own poverty.
In practise, we want to transform the living conditions of vulnerable individuals in an enduring way, and to boost their dignity as well as their ability to impact their own lives. This is expressed through aid efforts in our priority areas: social care, training & education and self-sufficiency. We also work actively with humanitarian aid.
Läkarmissionen's development chain
Some of our aid projects focus on one of the priority areas, but an increasing part of our portfolio are so-called integrated projects – projects where we combine different measures in order to better help people on the path from dependency to independence. We call this transfer Läkarmissionen's development chain, pictured below together with our core values.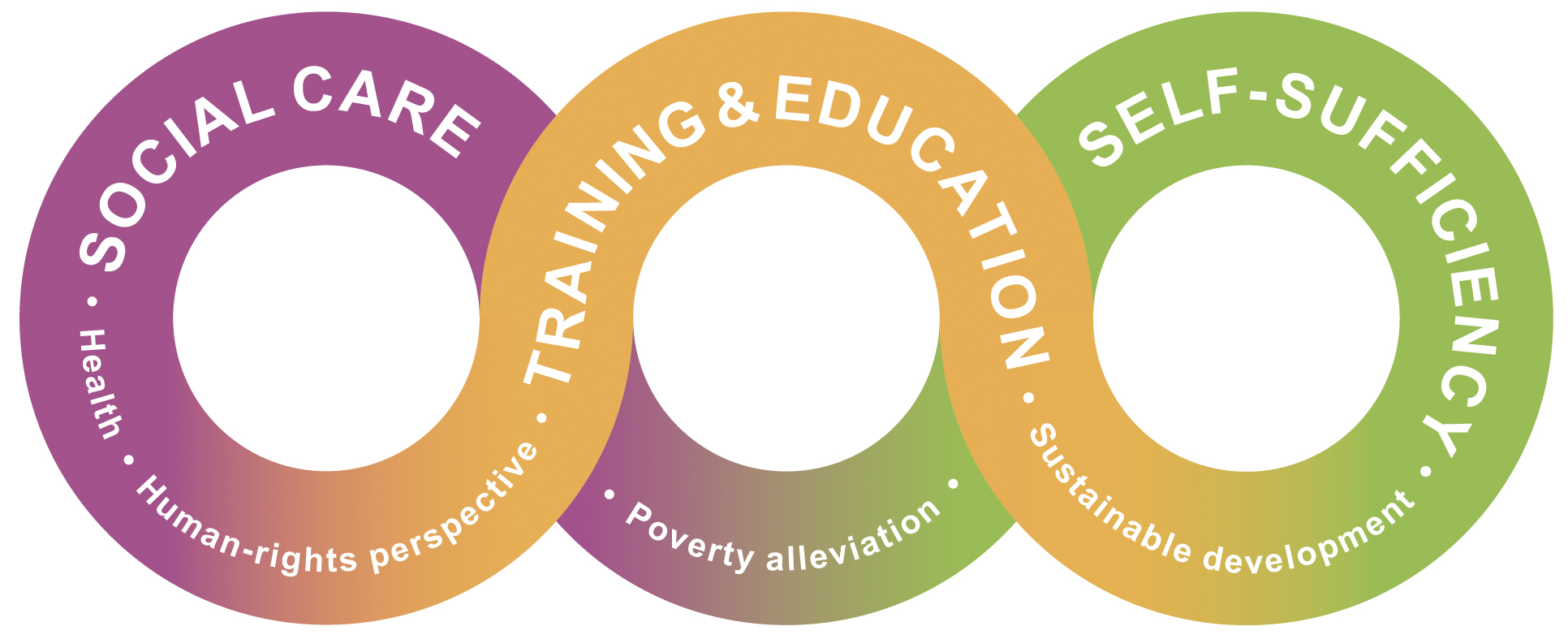 Briefly described, we start with social care to see to the basic needs of the people involved, such as water and shelter. The next step is education and training, to lay the foundation for creating a better future. If you can't read or do simple math, it is very hard to find a job or start a business. The final step is self-sufficiency, which can be obtained through vocational training and microloans from self-help groups and savings groups.
Our foundation
Our vision and mission statements clarify the ultimate goal for our operations, and guide us on the way to achieving it.
Our core values (poverty reduction, equal rights, sustainable development, health and a holistic view) are based on the ethical principles carried by Christian tradition. For us, this means that all human beings are unique and of equal value, regardless of faith, gender, ethnicity or other factors that could be used to divide or discriminate.
Our values have also inspired our Code of Conduct, which clarifies how we want our partners to act in relation to the people participating in our programs, and also towards authorities and towards us.
Our values do not exclude, they make it clear that we wish to be a voice for the weakest and most vulnerable. Our relationships with partners in Sweden and other countries are therefore characterised by openness, warmth and understanding.